This site is open to the public by the Usune Regional Hometown Creation Promotion Association, which is operated by local residents, neighborhood volunteers and organizations of the Usune in Numata city, Gunma Prefecture.
Overcoming depopulation due to the overall population decline and people leaving their hometown, we go about our daily lives hoping to create a fun and cheerful town. Our goal is to have as many people as possible experience the terraced rice fields that are said to be one of Japan's assets, the rural landscape, the chirping of the birds, the sound of nature, and the delicious vegetables and fruits, as we protect the nature and culture of our region.
This site aims to introduce the region of Usune, in the hopes that it can be used as a place to nurture healthy children's minds, and to soothe people who are busy working in the city, through experiencing the countryside, farmland, and nature that are unlikely to encounter in the city. As such, we offer a number of experience programs, and are currently creating plans that can be used as part of employee training or educational trips.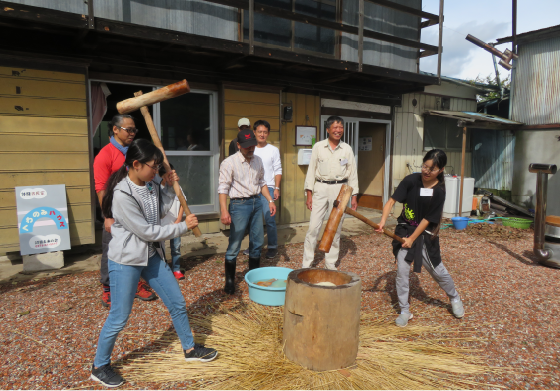 Among these, we have adopted the rice terrace owner system as one pillar, a premium system where the guest will become the owner of one plot of land, and experience rice planting, rice harvesting, various events for harvesting experience, delivering harvested rice, experience the countryside throughout the seasons, and eat terraced rice that they grew themselves.
Please be sure to look around this site, and if you have any questions or concerns, don't hesitate to contact us.
We hope to see you here in Usune region.